TRANSPORTATION DEPARTMENT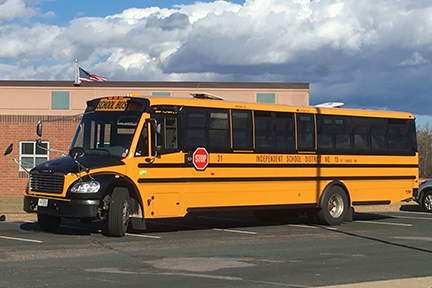 The Student Transportation Form must be submitted to the Transportation Office if your child needs transportation from home or childcare, to and from school. Forms must be submitted five business days in advance to allow for proper notification and scheduling.
Childcare is defined as a location other than the student's residence in which care is being provided in the absence of the parent or legal guardian.
For Preschool Place 15 transportation requests, please fill out the Preschool Transportation Form or contact the Early Childhood Family Center office at 763-753-7170. Changes can take up to seven days working days to go into effect.

22968 Ambassador Boulevard NW
St. Francis, MN 55070
By using the Zonar MyView app, parents and students will know where the school bus is along the route.

See the Parent User Guide for download instructions and helpful information.
The St. Francis Area Schools code is ISD9409.
Parents/guardians will need their student's ID number. Contact your student's school or find it in the Infinite Campus Parent Portal.
Bus Stop Reminder: Please be at the bus stop 10 minutes before the assigned time and as close as safely possible to the edge of the road so drivers can see you. When it's dark out please indicate you are at the stop by having a flashlight or phone flashlight on for better visibility.
Students are assigned to bus stops and specific bus routes. Students must ride only the bus they are assigned to. Students shall board and exit the bus only at their assigned bus stop.
When both parents reside in the same school boundaries, the students may ride from both residences as needed, call the Transportation Office.
MOVING/CHANGE IN STUDENT INFORMATION
Please call the Transportation Office if there is a change in address, phone number, head of household, name or change in ridership since initial registration. This will help keep records up-to-date and allow proper bus assignment.
MILEAGE REIMBURSEMENT FOR NON-PUBLIC STUDENTS
St. Francis Area Schools policy for reimbursement is as follows:
Children must attend a private or parochial school outside of St. Francis Area Schools boundaries.

Reimbursement is only for miles traveled in St. Francis Area Schools boundaries.

Reimbursement is per family.

Mileage reimbursement for non-public students will be $250.

Reimbursement request must be received no later than June 28 of the current school year.

Requests received after that date will not be accepted.
Form: Mileage Reimbursement for Non-Public Students (PDF)